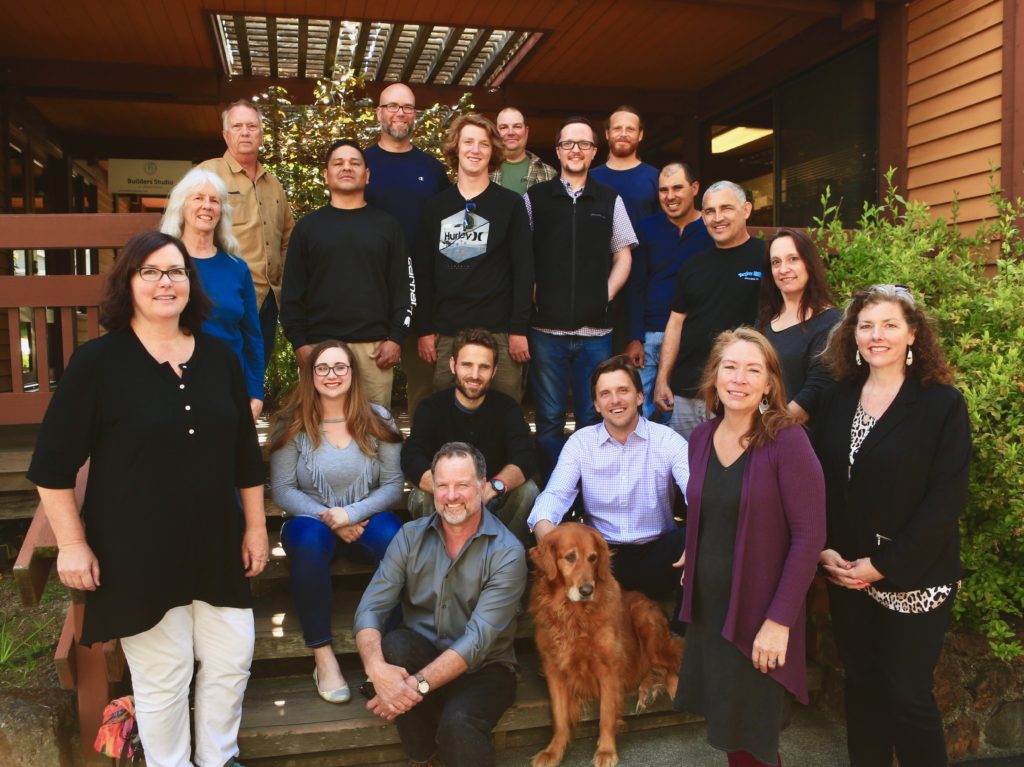 Committed to Excellence
We strive for quality at every stage – in consultation, project management, building, and final delivery.
Focused on Efficiency
Being involved with your project in the early stages allows for the total project cost to be accurately evaluated earlier, saving you time and money. Additionally, our teams use cloud-based project management tools to streamline communication and ensure quality control.
Driven by Collaboration
Collaboration is at the core of everything we do. We partner with you to turn your vision into results – you can expect clear, open, and proactive communication to ensure your voice is heard. We are your advocate, shepherding your project carefully from stage to stage, always accountable to you.
Design/Build Capability
If your project is still in the conceptual stages, we are here to help. Builders' Studio of Sebastopol, our trusted partner for premium quality architecture and engineering services, provides comprehensive services from design development through full sets of construction drawings and permitting. Whether you choose to work with Builders' Studio or not, we can work seamlessly together with your design professionals as a collaborative team to see your project from your initial vision through completion of construction.
Holding a degree in construction management with an emphasis in architectural project management, followed by over 20 years in design, drafting and construction, his experience as both general contractor and project manager allows him to skillfully guide clients and employees toward realizing the best possible outcomes. He relishes tackling the complexity of the many moving parts of each project, thoroughly analyzing each obstacle and opportunity, and connecting the pieces together as a complete and successful plan.
Work and play are one and the same for Greg, but the time he spends with his wife, young children and extended family is what he holds dearest to his heart. Always emphasizing the fun to be found along the way, he enjoys time shared with friends on the golf course and in the surf.
Not only is Becca a wizard at leveraging technology to create our business systems, she also elevates our moods every day. She has over two decades' experience beginning with early stage technology start ups.  With her deep and transferable skill set in business administration, human resources, finance and IT, she has worked in a variety of different industries, including construction, renewable energy engineering and interior design. The streamlined systems that Becca puts in place allow all of us to focus our energy on what we do best - provide our clients with exceptional advice and service.
Away from the office, her happy place is sitting on her deck in the redwoods watching her children play. She enjoys reading to her kids and going to plays and concerts with her husband.
While studying at Sonoma State getting her degree in Energy Management and Design, Katie was fascinated at how efficient building design could result in a much smaller environmental footprint.  After graduation, she worked for almost 3 years at a local solar company working in the office and wearing many different hats. Procurement, sales and operations support, office management and customer service to name a few. Coming to Thrive Construction Group primarily to support business operations, she has become an invaluable member of the project management team.
In her free time, Katie enjoys exercising, hiking, cooking new recipes, puzzles and games, and taking her dog for walks.
When Tyler Carter was hired, he came on as a carpenter, but it soon became clear that his attention for detail and excellent communication skills were perfectly suited for project management. He moved into the office and has been an integral part of the project management team ever since.
With us since the inception of Thrive Construction Group, Stanley is an integral member of our close-knit team. An enthusiastic receptionist, Stan is always first to greet all who enter our office, particularly if they happen to be carrying food. He takes his role of Chief of Security very seriously, protecting his colleagues from dangerously uniformed mail carriers and delivery drivers.
When he is not hard at work, Stan enjoys napping, getting scratched and licking his family.
Panzer's dashing good looks and delightful personality make him an indispensable asset here at Thrive. He loves to eat T R E A T S and chase Stanley around. He is also highly skilled at turning cat lovers into dog lovers.
When Panzer isn't in the office, it just isn't a good day. Luckily, he is in the office almost every day!
At Thrive Construction Group, we're focused on building beautiful structures, but more importantly, we're committed to building a community. This sense of community is integral to our company culture. Because of this, we hire people, not positions. We believe that helping each other achieve our individual goals will ultimately lead to success for the team.